African Pork and Peanut Stew
mikejoy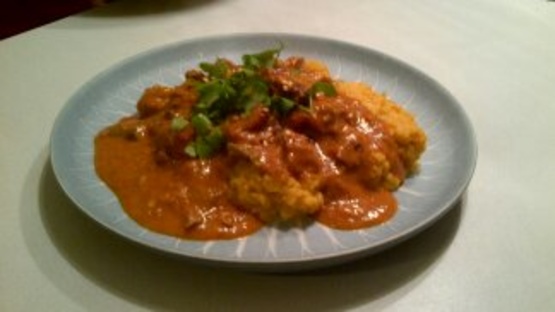 Serve with the chopped cilantro and peanuts on top. If desired, pass additional red pepper flakes on the side

Top Review by AmyJim
We made this as the entree for our gourmet dinner club that was featuring South African wines with a wine master. Coupled with 3men.com/south.htm#Yellow Rice with Raisins, it was an enormous hit! People asked for seconds and our teenage children devoured any and all leftovers the next day! Extremely easy to prepare. A definite keeper!
In a large pot, heat 1 tablespoons of the oil on high heat. When hot, add the pork cubes and cook until soft. Stir in the garlic, curry powder, coriander, cumin, and crushed red pepper. Cook 1 minute. Add ginger, cinnamon, bay leaf, salt, chicken broth, and tomato paste.
Bring liquid to a boil, cover and simmer on low for 45 minutes. Add peanut butter and blend well. Cook stew another 3 minutes, uncovered to blend.
Stir in chopped tomato and bell pepper. Simmer 2-3 minutes, just until the vegetables soften but still retain shape.
Before serving, taste to correct seasonings; You may wish to add a final splash of lemon juice to refresh the flavors.