African Piri - Piri Kabobs
L. Duch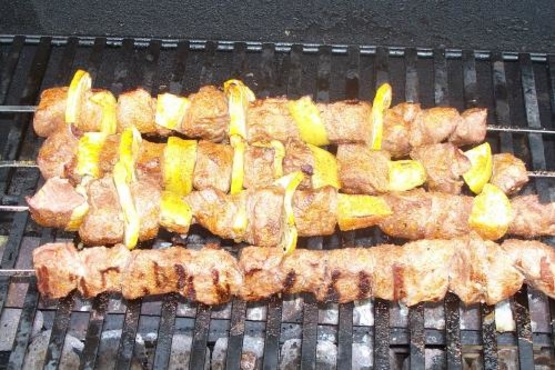 For Bergy, hope this is the right piri-piri spice mix. Found this in B H & G and will try it this weekend. Looks wonderful in the picture and sounds great. It will be interesting to see how it works. Will comment after I try it and let you all know.

well I didn't get around to buying the beef I wanted to try this on but did try the spice mix on chicken, it was great! I would say medium heat, if you like it hot hot add more cayenne. We skewered the skinless boneless chicken and brushed olive oil over and liberally sprinkled the piri-piri spice mix over both sides and DH bbq'd them.We loved them; served with bbq'd tomatoes, stuffed with asparagus, onion and wild rice mix. Very enjoyable meal, I will use the spice mix on a lot of different things.
Peel sweet potatoes, if desired and cut into 1 1/4 inch cubes.
Cook potatoes in lightly salted boiling water for 5 minutes or until slightly tender.
Drain, cool slightly.
Alternately thread the sweet potato, venison or beef and sweet pepper pieces on 4 long metal skewers, leaving a 1/4 inch space between pieces.
Brush with olive oil and sprinkle generously with piri-piri spice.
Place kabobs on the lightly oiled rack of the grill directly over medium heat.
Grill for 25 to 35 minutes or until sweet potatoes are tender, turning occasionally.