PaulaG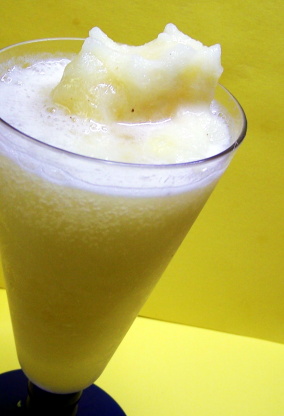 For the World Tour Contest. This is off the Recipegoldmine site. Cook time is freeze time.
Top Review by PaulaG
This is a very refreshing drink. Would be excellent for hot summer months. I made half a recipe which produced more than the servings specified. For the sugar, I used Splenda and reduced that by 1/2 cup. This did freeze very firm and required that I mix it in my Vita-Mix with some of the 7-Up. An enjoyable drink for hot weather.
Dissolve sugar in hot water and cool.
Add all other ingredients, stir well to incorporate, and freeze in a big bowl.
Other fruit can be added to the bananas and pineapples such as pears, peaches, strawberries, and/or kiwi.
Spoon frozen mixture into a glass and add Sprite, 7-Up, or Ginger Ale.