IngridH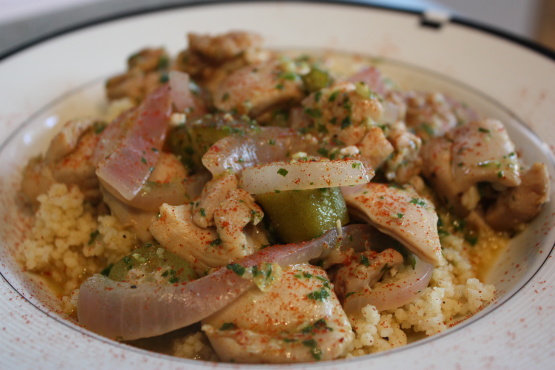 From the Food Network Kitchens. This is a quick way to have exotic comfort food. There is a recipe for Tunisian Pesto listed because you will need to stir this in to complete the stew. The pesto recipe makes one cup. you only need 1/3 cup for the stew, so you can reserve the rest for later use or even freeze. Yum!

Yum! You've got another winner here, LIG! I used homemade chicken stock, hot smoked Spanish paprika, and just to be different, threw in a handful of sliced okra (for a half recipe). I wanted to dive into the pot while this was cooking; because the paprika and cumin just smelled so good! With the addition of the lemon zest, it just went over the top. The only downside (which I'll call operator error for messy measuring) was that I had a bit too much liquid when it was done cooking. To compensate, I added a cornstarch slurry to thicken things up. Overall, a wonderful dish, and easy enough to make on a weeknight. This is going on the short list of go-to recipes. Thanks so much for posting!
Tunisian Pesto:.
Combine the cilantro, parsley, almonds and garlic in a food processor and pulse until coarsely chopped. Add about 1/3 cup of the oil and process until completely mixed in and smooth. Add the salt and a pinch of cayenne pepper (if using). *If using immediately, add the remaining oil and pulse until smooth. If freezing, transfer the pesto to an airtight container and pour the remaining oil on top. You can freeze this for 3 months.
Stew:.
Bring the 1 1/2 cups of chicken broth to boil in a saucepan over high heat. Stir in the couscous, 1 t. of the salt, and pepper to taste. Cover, take off the heat and set aside while you make the stew.
Heat the oil and butter in a large dutch oven (or big soup pot) over medium-high heat. Season the chicken with the remaining salt, cumin, paprika and pepper to taste. Add the chicken to the pot. Cook, stirring occasionally, until browned all over - about 5 minutes.
Add the carrots, onion, the 1 2/3 Cups chicken broth, vinegar and lemon zest and bring to a boil. Adjust the heat to maintain a brisk simmer, cover and cook just until the chicken is firm to the touch and the carrots are tender - about 8 minutes or so.
Stir the pesto into the stew. Fluff the couscous with a fork and mound it in 4 soup bowls. Spoon some chicken stew over each portion and serve!