Parsley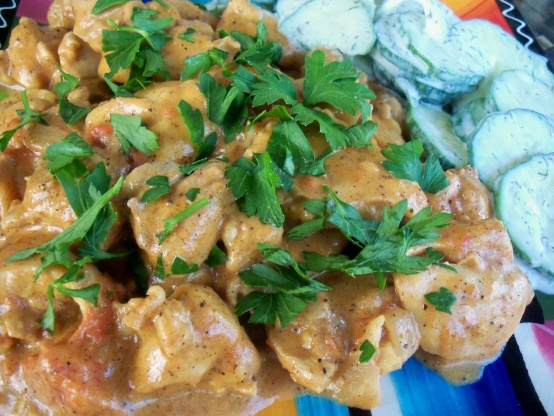 This is an African (Mozambique) curry that can be done with chicken, shrimp, or crab. Goes well with tomato chutney and onion hot sauce. For shrimp or crab, use 1 pound." I found it on another site while researching recipes for ZWT 2011 the African tour.

Delicious! We really enjoyed this curried chicken dish -- I just love coconut milk and curry. The only change I made was to use bone-in, skinless chicken thighs and I browned them with the onions and curry powder. I added about 20 more minutes cooking time to ensure that the chicken was cooked through. For some reason, the sauce did not thicken up very much, but that's okay -- we served the chicken on top of rice and let the rice soak in all that delicious sauce. Made for Everyday is a Holiday tag, January, 2013.
Heat olive oil in a large, heavy skillet over medium heat.
Stir in the onion, garlic, and bay leaf, and saute until onion is lightly browned.
Mix tomatoes, curry powder, and salt into the skillet, and continue cooking about 5 minutes.
Mix in the chicken, and cook 15 to 20 minutes, until no longer pink and juices run clear.
Reduce skillet heat to low.
Stirring constantly, gradually blend in the coconut milk over a period of about 10 minutes.
Mix in lemon juice just before serving.