African Banana Coconut Bake
Brenda.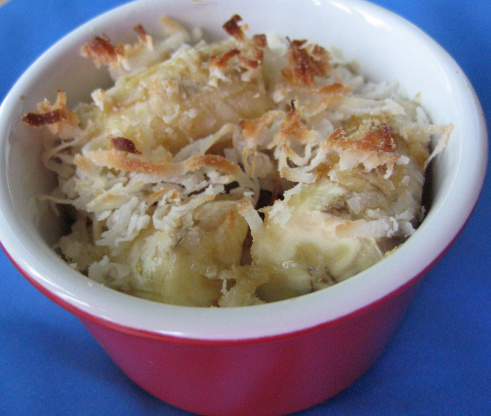 Very simple and delicious recipe, we have had this for breakfast as well as for dessert! This is from Tunisian Desserts Cookbook. Hope you enjoy!

I had some raisins and dates soaking in orange juice already for a couple days so I used some juice from that and added in the dates and raisins and the coconut and a little coconut juice and raw sugar and let it reduce down. I served over plain yogurt. It's similar to what I do with the soaked fruit except has beautiful baked bananas in it. A definite improvement. Next time I'll try it on some rice pudding or ice cream. Thank you. Made for Ramadan Tag 2011.
Heat oven to 375°F.
Cut bananas crosswise into halves.
Cut each half lengthwise into halves and arrange in greased 9-inch pie plate.
Dot with margarine or butter and drizzle with orange and lemon juices.
Sprinkle with brown sugar and coconut.
Bake until coconut is golden, 8 to 10 minutes.