African Apricot Chicken Skewers
For ZWT'06 Needs overnight prep. that is not included in prep time.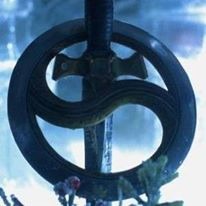 My husband kinda looked at me funny when I began preparing this recipe, but one taste and he was hooked! This was so good and got highest raves from the whole family. I never would have thought of combining these particular ingredients, but they all blended together beautifully. The flavor was fantastic! Thanks for sharing the recipe.
In a large bowl, combine chicken pieces, garlic, salt and pepper; set aside.
In a medium frying pan, fry onions in oil until golden.
Stir in coriander, cumin and curry powder.
Stir to coat onions, then add brown sugar, lemon juice and jam.
Add 1/2 cup water. Bring to a boil, stirring constantly.
Remove from heat.
When cool, pour over chicken.
Add bay leaves and refrigerate overnight.
The next day, thread meat with onions and apricots on skewers.
Grill over coals or broil in oven (7 minutes on each side).
While meat grills, remove bay leaves from marinade and transfer it to a heavy pot. Bring to a boil and add the cornstarch/water mixture to thicken a bit.
Serve over rice.