Satyne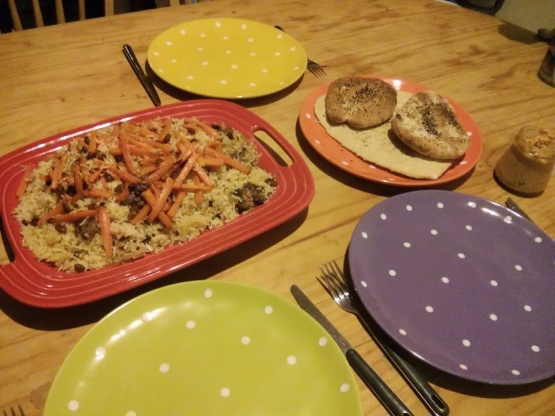 Naan is an Indian flatbread which is popular all throughout Central and South Asia, as well as parts of Africa. This is a version that is particular to Afghanistan.

Top Review by Satyne
We're a bit mixed in our review for this one. The end result was quite dense (but tasty). We weren't sure if it was correct for it to be so thick, if this was a result of our dough not rising properly or what the recipe was meant to look like. We ended up making a thin one and 3 thick ones, after halving the recipe (half recipe made 4 breads, serving sizes). I topped with all three seeds as I had them on hand and those flavours were lovely. Made for My Food Odyssey, Afghanistan.
Sift the flour with the salt into a large bowl; stir in the yeast.
Add the vegetable oil, if using, and rub it in wih your hands.
Gradually add in the warm water and mix with your hands to form a smooth, round, soft dough.
Knead for 7 to 10 minutes until dough is elastic and smooth.
Roll dough into several round balls, cover with a damp cloth, and let rest in a warm spot until dough has doubled in size.
Preheat the oven to 500 degreesF; line a baking tray with aluminum foil and place in the oven to get hot.
Once the dough has risen, divided into about 4 equal portions; on a lightly floured surface, shape or roll the dough out into an oval 1/2 inch thick.
Wet your hands and use your fingertips to make deep grooves down the center of each oval; sprinkle with your chosen seeds, if desired.
Remove the hot tray from the oven and place a prepared dough on it and bake until golden brown, 8 to 10 minutes (the bread should be fairly crisp on the outside) being careful not to over cook or burn it.
Repeat with remaining dough.
Wrap each bread with a clean tea towel or tin foil to prevent them from drying out.