Afghani Meat and Fish Spice Rub
momaphet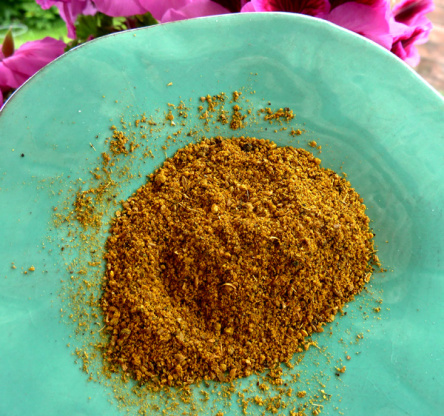 This combination is good on any fish or any meat of your choosing. It was developed by an Afghan street vendor in NYC, Zvia. He rubs the blend all over beef, pork, or chicken 2 hours before grilling. He also likes it on tuna, swordfish, bluefish, and bass. It will give you a blackened effect. It is also delicious stirred into rice or soup.
This is a delicious spice rub! I Made it as written except for reducing the quantity and grinding coriander seed. I used it on shrimp, sprinkling it on generously then letting it sit for about 30 minutes. I sautéed the shrimp in butter and olive oil, then after they were cooked removed the shrimp and added garlic, lemon juice and little more spice and butter, I cooked this down and pour it over the shrimp and served it with brown rice. The spice had lots of flavor and the coriander was very complimentary to the lemon juice. I can't wait to try this on other proteins! <br/>Made for "My Food Odyssey" Afghanistan
Use a mortar and pestle to grind all the ingredients together, or use a spice grinder.
Store in an airtight container.