Afghan Tea - an Authentic Family Recipe
Chef floWer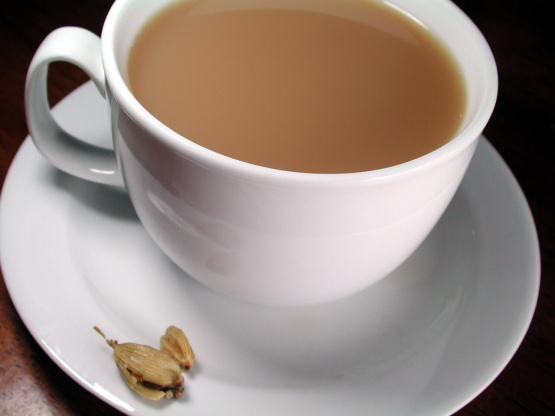 This is a great recipe for the typical tea drunk in Afghani homes. It is easy to make and very warming. Traditionally you drink it with sugar but if you wish to leave it out or sub with Splenda etc, that's OK!

This tea is a true delight! I loved the creaminess and the wonderful flavor. I didn't have any whole cardamom so I made a cardamom "teabag" by wrapping powdered cardamom in a paper coffee filter, then just steeped that along with the teabags. I used lowfat milk with good results. This recipe is a keeper - thanks for sharing it! Made for the Best of 2010 Event (recommended by Baby Kato)
Gently 'bruise' the cardamon by smacking with a rolling to open the husk up a little.
Place the cardamon, milk & tea bags in a pan & slowly simmer for 5 minutes.
Remove from heat, mix in sugar & pour into cups to serve.