Afghan Eggs and Tomato: Tukhum-Bonjan or Agay-Bonjan
UmmBinat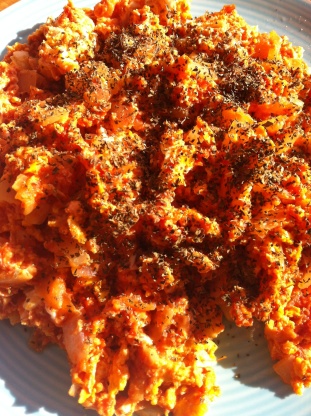 Submitted for Afghanistan for My Food Odyssey. Original Recipe from this link http://afghancuisine.wordpress.com/2012/04/28/afghan-eggs-and-tomato-tukhum-bonjan-or-agay-bonjan/. Serves and time are approximate, please feel free to submit corrections.

Tasty. DD1 (5 years old) loved it!!! It was a soft egg experience. I would say this is 4 servings. I used an extra free range egg because they were on the smaller side. I used organic onions and tomatoes, sea salt, freshly ground black pepper, and the dried mint which was neat. Made for My Food Odyssey - Afghanistan
Fry tomatoes on medium heat until softened, then add onion and fry until translucent.
Add eggs and mix around a bit so it's like a scrambled egg, and leave on heat until cooked.
Add salt, pepper, and even dried mint as seasoning.
Serve eggs with warm Afghan bread, and sweet Sheer-Chai (Milk-Tea) drink.