Rita1652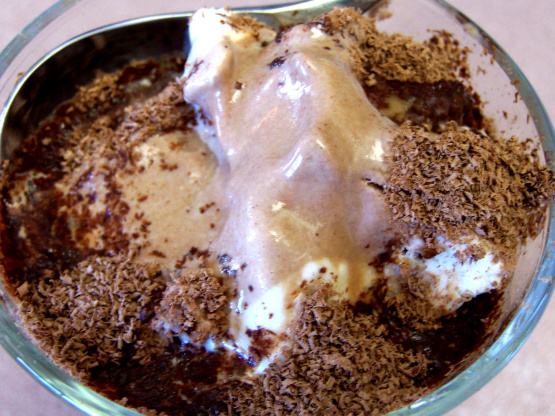 Use only the best quality ingredients and you'll have the most delicious and refreshing dessert imaginable. And it takes only moments to make! Affogato is a typically Italian way to enjoy ice cream — it's literally 'drowned' in espresso or another liquid topping. This version of Affogato Mocha appeared in the May 2005 issue of Bon Appétit

Whoa, YUM! I scaled it down for myself, went without the rum (I'm not a fan. Maybe some Bailey's..) and instead of the chopped chocolate I made a choc sauce to pour over the top, using hot choc powder & a tiny bit of water. We only really buy ice cream when the good stuff is on special, then it's gone by the time I think to have an affogato...I'll be remembering next time, that's for sure!
Divide ice cream among 4 dessert bowls or coffee cups.
Spoon 2 tablespoons each of chocolate, espresso and rum over the ice cream and serve immediately.