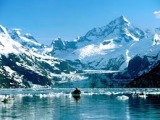 For adults only! To create a real Latin flavor, make this with dulce de leche liqueur. If you can't find it, some Irish cream whiskey could take its place. Prepare the espresso with an espresso machine or just use instant espresso powder (or you could even order it from you local coffee place and just reheat it before serving). Recipe courtesy of Ingrid Hoffmann.
1 pint vanilla ice cream
1⁄2 cup dulce de leche liqueur or 1⁄2 cup coffee liqueur
4 shots brewed espresso
Directions
Chill 4 medium heat-proof glasses in the freezer.
Scoop 1/2 cup of ice cream into each chilled glass and top with 2 T of liqueur.
Pour the hot espresso over the ice cream and serve immediately!
Most Helpful
whats not to like coffee ice cream and kaluha ? nothing this drink rocks i used chocolate chip ice cream good stuff , hope you are having fun cakepops on parade s/a quest

Delicious! Although this Winter has been quite abnormally warm, there have been some raw nasty nights where this drink really warmed me up. I used the coffee liqueur and it was perfect!
Made for Veg 'N Swap tag 2-2012.

I really enjoyed this adult coffee LIG. Creamy, smooth and a little boozy. All the flavors blended well together and the ice cream was the icing on top for me. I used some irish cream whisky and coffee liqueur, so good with the espresso. Thanks for sharing your treat. Made for ZWT7 for Witchin Kitchen