Maito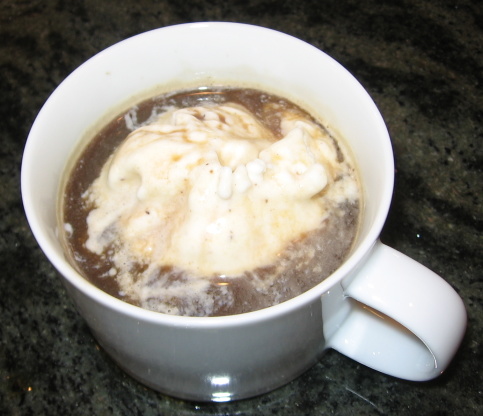 This is the easiest 'fancy' dessert I have up my sleeve. Since you're putting so little work into making such a fab dessert, be sure to use the best espresso roast and vanilla ice cream you can!
1

scoop premium vanilla ice cream

1

fluid ounce fresh- brewed espresso (I would prefer the word 'demitasse' to 'fluid ounce' but the system won't take it, anyway, one of th)

1

teaspoon brandy (optional)
1⁄2 teaspoon sugar (optional)
Put the scoop of ice cream in a pretty glass, bowl or coffee cup.
Combine the hot espresso with the brandy and sugar and pour over ice cream.
Serve immediately. (I have a recipe for Espresso Brittle posted - shards of this are lovely served over the Affogato).