Kay D.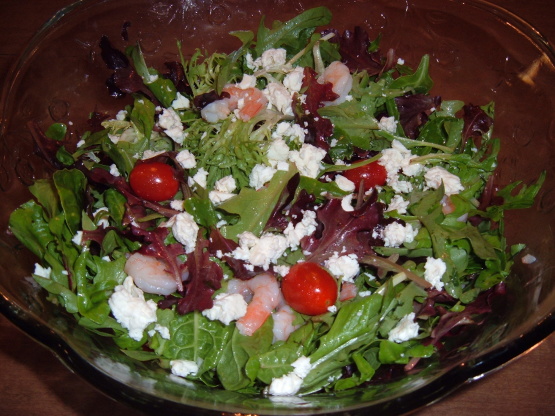 Elegant and tasty shrimp, feta cheese, and spring salad. Delicious!

Very elegant and simple to make. We really enjoyed it. The only thing that could make this better would be a little "something extra". Next time we will probably add cherry tomatoes and black olives. Very tasty - Thanks for sharing!
In a medium bowl combine vinegar, cilantro, 1/2 tsp.
salt, and sugar.
Slowly whisk in the 2 Tblsp.
of oil.
Set this aside.
Heat the remainder 2 tsp.
oil in medium skillet over medium heat add the next 3 ingredients and remaining 1/3 tsp salt.
Cook 2-4 min.
or until opaque.
Combine with dressing and the greens.
Toss well to coat then top your salad with the Feta Cheese and Serve--.