Adriatica Prawns Skiathos
JustJanS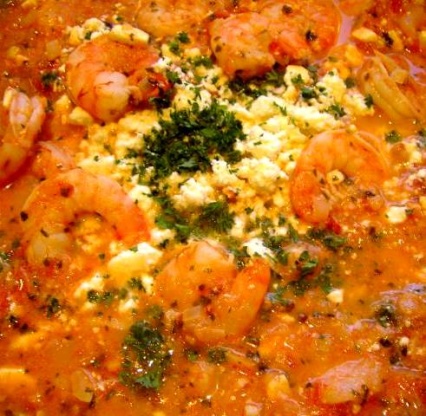 A co-worker gave this to me years ago from the (late) Adriatica. We've cut back on the feta and it's still good, but I wanted to post the recipe as we knew it.

TigerJo, I love this recipe. It doesn't take much time to put together and it tastes wonderful. I only used half of the feta that the recipe calls for and it still had a good feta flavor to it. I will use the full amount next time, because I love feta.
In a large saute pan, heat olive oil on high; add onion& garlic; cook until soft but not brown; add tomatoes; cook for 1 minute, add wine, lemon juice, and chiles; reduce for about 1 minute.
Add prawns, 1/2 of the feta and all of the basil; cook until prawns are done and feta is creamy (about 3 minutes).
Meanwhile, cook pasta until al dente; drain and place on serving dish; pour sauce over.
Crumble the rest of the feta over the top; sprinkle with parsley, and serve.