Olive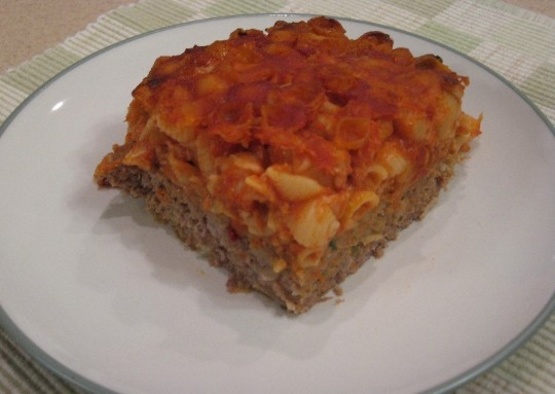 Three words-- OH MY GOSH!!!! This is a recipe from Adriana's restaurant on The Hill in St. Louis, one of the greatest Italian neighborhoods in the country. This pie is so good it will leave you wanting more, even when you're full. It makes a LOT of extra sauce for you to save and use as you wish. I also make this ahead by only baking it for 15 minutes at first, then freezing it and baking it for an hour at a later time. Can you say "meat crust?" You will from now on... p.s. a reviewer says the recipe also appears on foodtv.com with slight variations.

Thank you so much for this recipe. It's scrumptious! I felt like a real Italian chef (just plunking a chunk of rich provolone right in the sauce, etc.) I wish I'd read the review about covering the top, because the cheese did burn somewhat by the end of the cooktime, but just made the whole thing more rustic! One suggestion about the time of preparation--despite the caution to read the whole thing through, I didn't allow enough time (or we would have been eating at midnight!), so I cooked the sauce about 20 minutes, and spooned the 2 cups into the dish and put it in the oven. By the time the dish was done, the remainder of the sauce had slow cooked the way it was supposed to, and spooning it on top was just the heavenliest flavor. Maybe it's better with the whole time incorporated to begin with, but I can't imagine! Also, we aren't red meat eaters, so this was done with ground turkey, and still we are rapturous. Thank you!
Read directions all the way through first********* Meat Crust: Mix ground beef, parsley, bread crumbs, onion, eggs, 1/2 cup parmesan, 1/2 teaspoon salt, and 1/4 teaspoon pepper in a bowl very gently.
Do not overmix.
Put mixture into lightly greased 10-inch pie plate or 11" x 7" casserole dish.
Shape crust so that it's about 1" thick.
Tomato Basil Sauce:.
In large pot, cook garlic and red pepper flakes in oil on low heat for 4 minutes only.
Add tomatoes, paste, water, 1 1/2 teaspoons salt, 1 teaspoon black pepper, sugar and basil leaves.
Bring to boil.
Reduce to low heat.
Add chunk of Romano cheese and cook for 1 1/2 hours.
Filling:.
Preheat oven to 350 degrees Fahrenheit.
Mix the filling (3 cups cooked pasta, 1/2 pound mozzarella, 1/2 pound provolone, 1/2 cup parmesan cheese and 2 cups tomato basil sauce) in a bowl.
Scoop into meat crust.
Bake for 1 1/2 hours.
Let cool for at least 15 minutes.
Top each slice with tomato basil sauce and sprinkle with Parmesan cheese.