Adobo, Salsa & Parmesan Chicken (Quick & Easy)
Bergy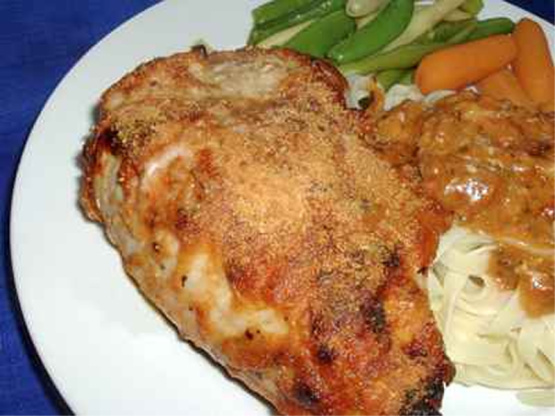 I had had a very busy day and just wanted to throw something in the oven and this recipe is the result of it. Use your favorate Salsa home made or bought. There is enough sauce to serve on top of two servings of pasta. If you use boneless breasts they may cook a little quicker check internal temp done when it reaches 170F

I am always looking for new ways to cook chicken breast. I was wary about this recipe because of the mushroom soup and salsa...but I went ahead and made it tonight for dinner just to taste it. The chicken breast cooked for 45 minutes which was right on. It was super moist!!!! I used Muir Glen Organic Mild Salsa, Campbell's Healthy Request Mushroom Soup AND at service time, I added some sour cream and a little Monterey Jack Cheese. I cooked Rotini tri-color noodles to go with the chicken and "sauce"...YUMMMMMMMMMMMMY!! I would give more than 5 if I could, thanks Bergy for yet another recipe that I just LOVE and I am so making this again soon :)
Preheat the oven to 375°F.
Rinse the breasts and dry them, place in an oven proof dish.
Mix together the salsa, soup & adobo, pour over the breasts.
Bake uncovered for 30 minutes,.
Baste with the sauce, sprinkle cheese over top.
Return to the oven and continue baking for an additional 15 minutes or until the internal temperature reachs 170°F.
Serve with your favorite pasta ladle sauce over top.