Adobo, Garlic & Parmesan Potato Oven Fries
Leslie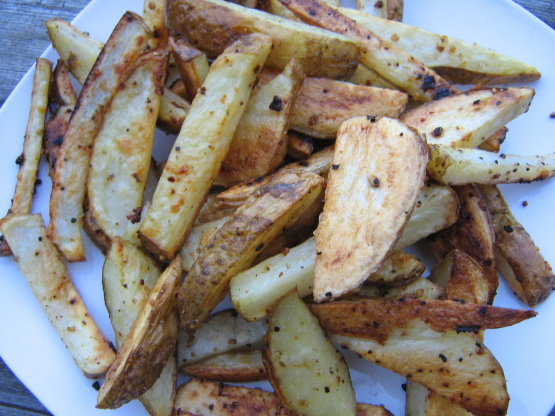 There are many oven fry recipes but this combibation gives a tasty slightly crunchy fry. I do not use any oil on the potatoes but the spices & cheese stick better if you do. I will suggest spraying them in the recipe but it is not necessary. Holding the fries in the ice cold water until baking prevents them from discoloring. I use a Baking stone but a cookie sheet works too. If you wish leave the skin on but scrub them well.

Oh yummmy! These are so good. I havent seen adobo seasoning here but I did manage to find some chipotle powder so sprinkled that over instead. I used 4 large red potatoes to serve 3 of us (shouldve made more!) love these fries, thanks for sharing Bergy.
Preheat oven to 375°F.
Use a Baking stone or a cookie sheet.
Drain water from the potatoes and place on Paper towel cover with another paper towel and dab dry.
If using oil lightly spray the fries while they are on the paper towel, turn& spray other side.
Sprinkle the Adobo spice, Garlic, Salt& Pepper over the fries.
Potaoes on the Baking stone (cookie sheet) arranged in a single layer.
Place in preheated oven for 30 minutes.
Remove from oven, turn the fries and sprinkle with the Parmesan cheese.
Return to oven for a further 15-20 minutes.