Adobo Chips With Warm Goat Cheese and Cilantro Salsa
Rita1652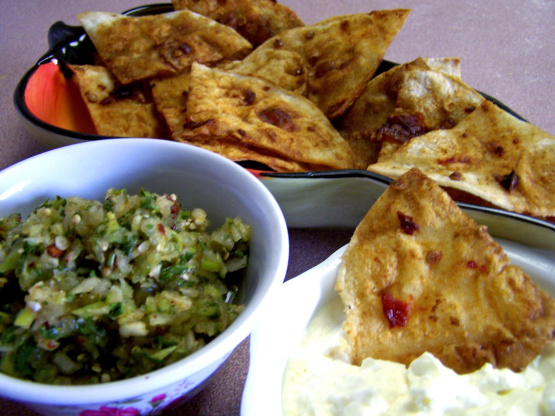 A great appetizer for Cinco de Mayo! This has gotten many compliments! Adapted from Cooking Light magazine.

Excellent! Made this for my son`s birthday! It was just so good from the cheese to the chips to the Salsa! Perfect amount of heat. I did add the zest of the lime to the salsa. For the chips I did have enough sauce to spread over 16 tortillas. Thanks for a great recipe!
To prepare salsa:.
Finely chop the chipotle peppers to measure 2 teaspoons. Remove 1 teaspoon adobo sauce from can, and set aside. Combine chiles, cilantro, tomatillos, onion, and 1/4 cup lime juice in a medium bowl; cover and chill for 1 hour.
Preheat oven to 375°.
To prepare chips:.
Combine 2 1/2 teaspoons lime juice, olive oil, adobo sauce, paprika, and cumin in a small bowl, stirring with a whisk. Brush 1 tortilla with about 1/4 teaspoon juice mixture, spreading to edge. Top with another tortilla; repeat procedure with lime juice mixture. Repeat procedure 6 more times (you will have 1 stack of 8 tortillas). Using a sharp knife, cut tortilla stack into 6 wedges. Place wedges in a single layer on baking sheets. Bake at 375° for 15 minutes; turn over wedges. Bake an additional 10 minutes.
Reduce oven temperature to 350°.
To prepare cheese:.
Combine cream cheese and goat cheese in a small bowl; stir until blended. Spread cheese mix into a shallow 6-ounce ramekin or baking dish; cover with foil. Bake at 350° for 10 minutes or just until warm. Enjoy!