Addie's Favorite Peanut Butter Chocolate Chip Cookies
Boomette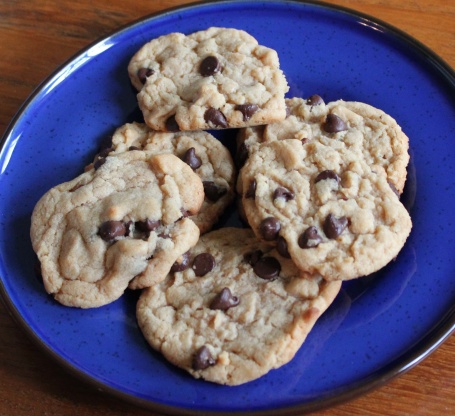 My most requested cookie recipe. I am unsure of the yield, but should be approx. 2 dozen. They are usually eaten from the cookie sheet before they are cooled.

These cookies are great even with my health nut changes! If anyone likes to make "healthy" baked goods, here's what I did. I used whole spelt flour, left out the PB (just cuz I'm more of a choc. chip cookie fan), used 1/2 cup unrefined whole cane sugar and about 1/3 cup agave nectar (which helped add enough liquid). They turned out great! They rise instead of spread and are very soft inside -mmmmm!
Mix dry ingredients and set aside.
Mix butter and peanut butter.
Add both sugars, cream well.
Add eggs and mix well.
Add flour mixture, mix well.
Fold in chocolate morsels.
Drop dough from rounded teaspoons onto cookie sheet.
Bake in pre-heated 375 degree oven for 10-13 minutes.
Allow to cool on cookie sheet 2 minutes.
Remove to cooling rack to finish cooling.