teresas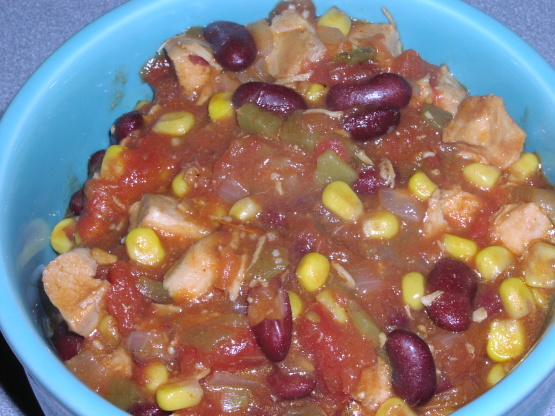 My mother gave me this recipe. She found it while clipping coupons. It is from S&W. This is the best stew I have ever eaten and my family requests me to make it quite frequently. It has become a "comfort food" for us. Perfect to make if you have leftovers after baking a large turkey or chicken. Can be made vegetarian or vegan if desired.

Excellent! I just finished making this and it is addictive!! I made a couple of minor adjustments simply because you do what you have to do… I used Rotel instead of green chiles, I didn't have those on hand. I used a whole 14.5 ounce can of chicken broth because I hate left over stock (I always forget I have it in the freezer and someone will throw it out). The had to cook up the chicken in the soup pot first with salt, pepper and other spices, then added the onions and garlic. Once that was fully cooked I added the rest. Very yummy and really easy to make!!! The Rotel adds a nice zing to it if you like that!! Thanks for sharing!!!
Cook onion and garlic in oil in large saucepan until tender.
Add cooked chicken, taco seasoning, tomatoes, beans, corn and chilies.
Blend broth and cornstarch; add to saucepan.
Bring to a boil; reduce heat and simmer 15 minutes; stirring occasionally.
Serve with cornbread for a hearty meal.