Addictive Cheeseburger Pizza
ClareVH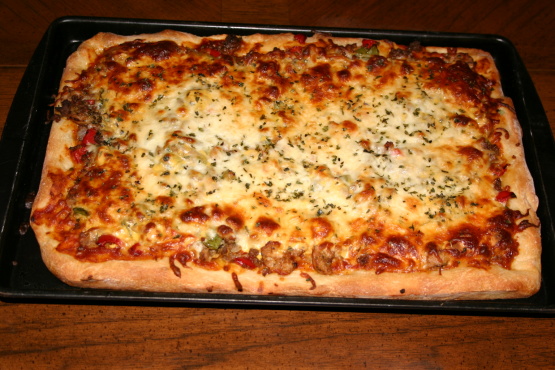 The comment I hear from everyone the first time they eat this is, "This is the best pizza I've ever had!" My daughters have old high school friends who still ask for this. It's very filling, so one pan goes a ways.

My kids, ages 5 and 8, chose this recipe and they helped make it. Both kids loved it, and one even requested that we make it again the next night. My husband and I, however, were less impressed... too much Velveeta (even went light on it) and not enough other flavors for us. I put buffalo sauce on my portions and while it sounds strange, it was actually pretty good that way. This won't go into our regular menu rotation, but if the kids request it again, I'll just know to make a second pizza for the adults.
Brown the burger, sausage, green pepper, onion, and garlic until the meat is fully cooked.
While this is cooking, spread/pat/roll your crust unto a greased jelly roll pan, pushing the dough up the sides to make an edge.
Prebake the crust in a 400 oven for 7-10 minutes or until it just begins to color.
Top the hot crust with the desired amount of pasta sauce.
(I don't like too much sauce on my pizza) Add the meat mixture, spreading evenly.
Top with the sliced Velveeta cheese, leaving about 1/2 inch between slices.
Add the mozzarella cheese in an even layer.
Bake at 400 for about 20 minutes, or until the top layer of cheese begins to brown.
Allow to sit for 5 minutes before cutting into 12 squares.