Add a Little Interest With Persian Couscous
ImPat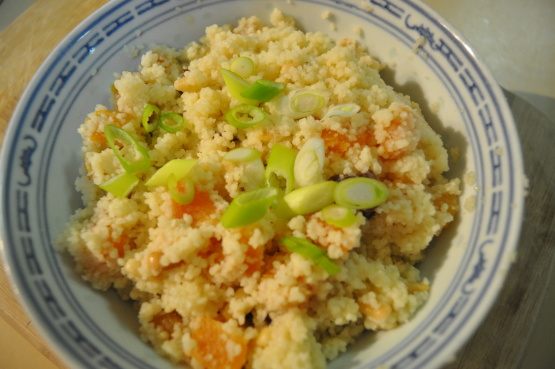 Couscous is a busy cooks dream come true--- invaluable for anyone who wants good food on the table fast! My youngest daughter loves to prepare herself a small bowl of couscous when she comes home from school. This recipe, colourful and tasty, with interesting textures, makes a good side or even a main dish. From The Very Easy Vegetarian Cookbook by Alison & Simon Holst

Very different couscous but yet so delicious. Made it with olive oil and without pine nuts; I didn't have any. I really liked the fruity taste, the sweetness of the apricots combined with the sourness of the currants and strong flavor of orange.Till now I only had Taboulleh, so this is a nice change.
Stir the couscous, stock powder, sugar and grated orange rind, together in a bowl.
Add the boiling water, cover, and leave to stand for 6 minutes.
Heat the nuts and currants in the butter or oil in a small frying pan, until the nuts brown lightly, and the currants puff up.
Add the chopped apricots.
Stir the hot nuts and fruit through the couscous.
Serve hot, warm, or at room temperature, adding the finely chopped spring onions and coriander just before serving.