Adapted Columbia Restaurant 1905 Salad Recipe
KateL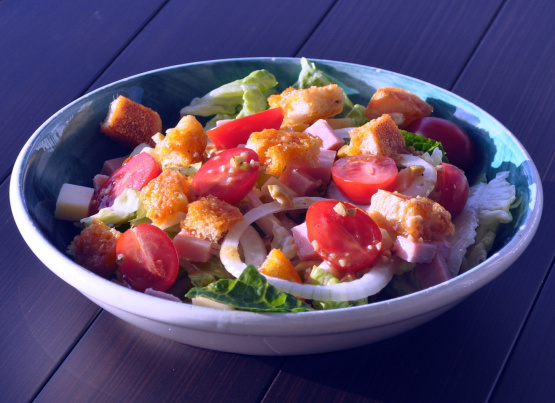 I found this recipe on MyGourmetConnection.com and here is what was stated about this recipe: "The Columbia Restaurant is an authentic Spanish/Cuban restaurant with seven locations in the state of Florida, including one in the Orlando area near Walt Disney World. The original opened in the Ybor City district of Tampa in 1905. Their signature salad, The 1905, is legendary and the proprietors are kind enough to share the recipe on their website. We've adapted it a little to suit our taste and served it along with crunchy Smoked Paprika-Manchego Croutons. The croutons themselves, sound awesome but knowing how good the salad is at the restaurant and adding them to it has to be over the top. This serves 2 as a dinner salad and 4 for a first course dish.

Top Review by KateL
For me the croutons rocked my world and took this to 5 stars. My dinner mates declared that this also had a very nice vinaigrette and they liked the combination of toppings. I used Romaine. Due to America's sad tomato situation, I used grape tomatoes for the perfect sweet taste. For the croutons, I couldn't justify buying a large piece of Manchego, so I substituted a sharp Provolone, which approximated the Manchego taste pretty well. I opted to containerize each element separately so my dinner guests could say yay or nay to which they wanted and which they would skip. I was the only one to include the olives, and all but one chose the honey ham. I let people pour their own salad dressing. What would take this over the top would be to serve Jamon Serrano as the ham, in keeping with the Spanish theme. I have plans for the croutons: to wok them in all but the cheese, then bake with the cheese for 5-7 minutes. Definitely use smoked paprika! Made for Please Review My Recipe tag game.
Preparation:.
Preheat the oven to 325°F and line a baking sheet with parchment. Combine the butter, olive oil, garlic, paprika and sea salt in a small bowl. Spread on the rounds of bread and top each with a portion of the grated Manchego. Bake until toasty and crisp, 5 to 7 minutes.
Toss the lettuce, tomatoes, onion, Swiss cheese, ham and olives in a large salad bowl.
In a small bowl, combine the garlic, oregano, Worcestershire, vinegar and lemon juice. Gradually whisk in the olive oil to form an emulsion. Add the dressing to salad and toss well. Season with salt and pepper to taste, sprinkle with the grated Parmesan and serve with Smoked Paprika-Manchego Croutons.