Ashley Cuoco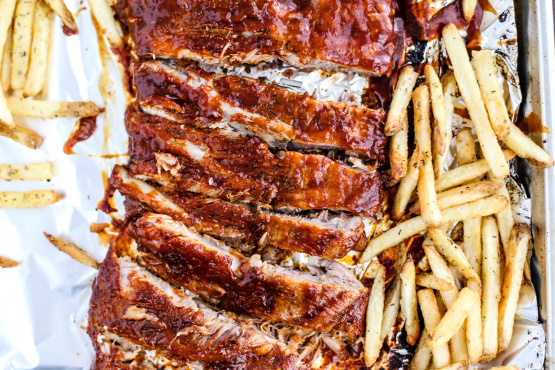 Different, unusual way to prepare ribs. The soda pop tenderizes the meat. Untried recipe but they sound so good I just had to post them!

I've tried several recipes from Recipezaar for all sorts of dishes. Some great, some so-so, and some not to my tastes. This recipe inspired me to rate it and add comments. It was soooooooooooo good. The meat was not dry andwas very fork tender. I cooked them in the Dr. Pepper about 1 hour and 20 min before the oven part. I found a really good bbq sauce last month called Sweet Baby Ray's which is what I used. It's bottled sauce I got at Kroger. This is the 6th time I've used this sauce. I love it. They got a website in case anyone is curious : sweetbabyrays.com. No I don't work for them but think it goes well with this OUTSTANDING recipe. Thank you sooooo much JoAnn for posting it. I highly reccomend this recipe.
Place ribs in large stock pot and pour Dr. Pepper over ribs to cover.
Add garlic, liquid smoke and onion.
Bring to a boil, lower to simmer and cook until ribs are tender.
Place ribs in baking pan and pour BBQ sauce over ribs.
Bake at 350 degrees for about 30 to 45 minutes.
Or they can be put on BBQ grill.