ChefLee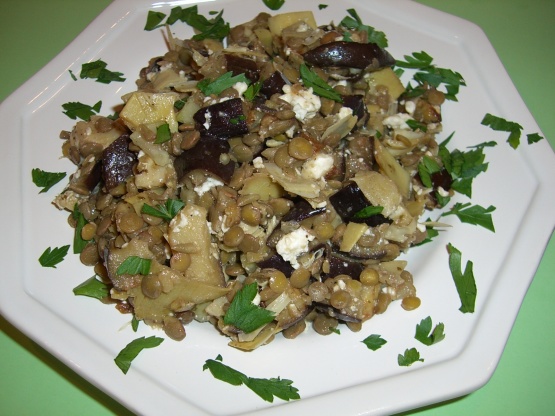 I wanted a Greek lentil salad so I created this one with roasted eggplant and artichoke hearts! Hope you enjoy!
Bring water to a boil then add lentils. Stir, then bring back up to a boil.
Cover the lentils and turn down to a simmer then cook for 20 minutes or until lentils are tender and liquid is all soaked up.
Put lentils in a bowl to cool.
Preheat oven to 400 degrees F.
Put your cubes of eggplant onto 2 baking sheets and toss them with the olive oil, salt, pepper, and garlic powder.
Roast the eggplant for 10 minutes then remove them to a bowl to cool.
Chop the drained artichokes then add them along with the lentils and eggplant to a large salad bowl. Toss them together to mix. Add the reserved marinade, feta, and lemon juice and continue to toss.
Finally, add the cucumber and toss one more time.
Serve immediately warm or may chill for a cold salad.
Garnish with chopped fresh parsley upon serving. (optional).