Acorn Squash With Roasted Garlic Custard
Nimz1466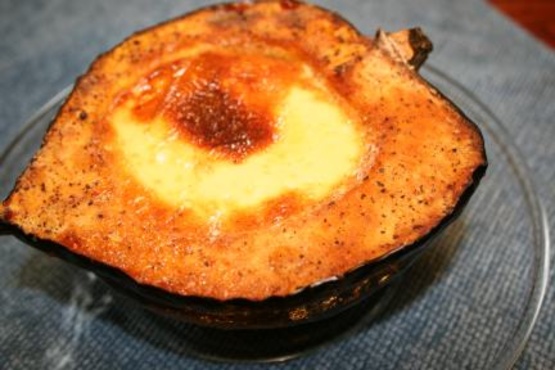 From Delicious Living Magazine, this is a sweet, creamy and savory dish that you will love! Winter squashes are use everywhere, but were so useful in the colder states, where the hard squash would winter over well. West, Mid West, New England, Canada, Mid Atlantic.

This was just delightful. It would have been good even without the custard filling. I think next time I'll add a little extra brown sugar. I used regular garlic, 1/2 bulb, and only 1 acorn squash for the two of us, but used the full ingredients for the rest. We really enjoyed this and will be making it again, probably without the custard filling, kinda of bland. It just didn't seem to add much to the recipe and we would prefer it just on its own. No need for butter for this one. Thanks for posting.
Preheat oven to 375°F Using a sharp knife, cut the squash in half lengthwise. Using a sturdy spoon, scoop out the seeds and fibrous membranes.
Rub squash halves lightly with half the oil and season with salt, pepper and a sprinkling of brown sugar. Place on a baking sheet. Use the remaining oil to coat the whole garlic bulb. Place it on the tray with the squash.
Bake the squash for 30 minutes. Remove and cool to room temperature.
Bake the garlic for an hour or until very soft. Remove and cool. Cut the garlic in half and squeeze out the soft cooked garlic into a bowl. Set aside.
Meanwhile, in a sauce pan, bring the milk to a simmer. Whisk the eggs and garlic together. Gradually whisk the hot milk into the eggs. Season with the salt, pepper and nutmeg.
Prepare a baking dish that will hold all four halves of squash. Pour one cup of water into the bottom. Cut a small sliver off the bottom of each squash to stabilize it in the baking dish.Place the squash in the baking dish, in the water.
Pour enough egg mixture into the halved squash to fill the cavity to a half inch from the top. Bake for 50-60 minutes or until custard is firm. Remove from the oven and serve warm. Enjoy!