Acorn Squash With Pineapple
PaulaG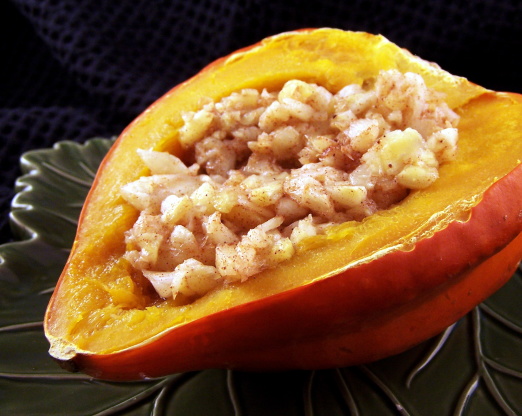 I thought this needed some tweaking, but the end result was a delicious, easy, inexpensive, low-fat veggie dish! I cut the spices in half; they were still more than sufficient and I think the called-for amount would have been overwhelming. I also doubled the amount of pineapple; it would have been somewhat lost otherwise. Since my pineapple was fresh, not canned, I added a teaspoonful of frozen pineapple juice concentrate to moisten it a little. I needed to bake my squash for about an hour and ten minutes before it was cooked. I'll be making this again.
Preheat oven to 350 degrees.
Cut squash in half and remove seeds.
Place each half, cut-side down on a nonstick baking sheet.
Bake for 45 to 60 minutes until soft and tender.
Meanwhile mix pineapple with spices and set aside.
Now place squash into a baking dish.
Divide pineapple mixture in half and place inside squash cavity.
Return to oven and bake 5 more minutes or until pineapple mixture bubbles.
Serve hot.
You may want to try half the amount of spices first, then add the rest if needed.