Acorn Squash With Cracker Stuffing
Bergy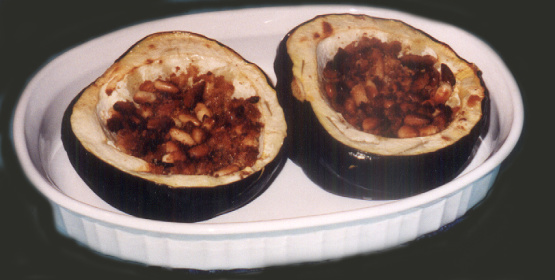 Dad used to make this for us at Thanksgiving. The penultimate holiday treat - I could eat this all the time.

Top Review by Bergy
Evelyn the stuffing is heaven and I can think of a dozen other ways to use it. It is crunchy and the flavor is excellent. I used Sweet & Low Brown sugar substitute - no problem. I too found that it needed 1.5 hours baking but then it all depends on the size of the squash. I cut the recipe back to make 1 squash (2 halves) no problem. You do not say what size of box of Ritz-I did double the crackers to the almonds Thanks Evelyn - loved this recipe
Preheat oven to 350°F.
Remove the seeds from the centre of the squash halves.
Brush the interior with some of the melted butter and sprinkle very lightly with salt.
Put the cracker crumbs, almonds, salt, cinnamon, nutmeg and brown sugar and add enough melted butter to bind.
Stuff squash cavities with this mixture, mounding slightly.
Place in a large baking pan and pour in enough hot water to come about 1" up sides of squash.
Bake for about 75 minutes (may need a little longer, depending on the size of your squash). Squash should be tender when pierced.
Place 1 half per person.
Eat with a spoon to scoop out yummy flesh and stuffing.