Acorn Squash With Apple Stuffing
Bergy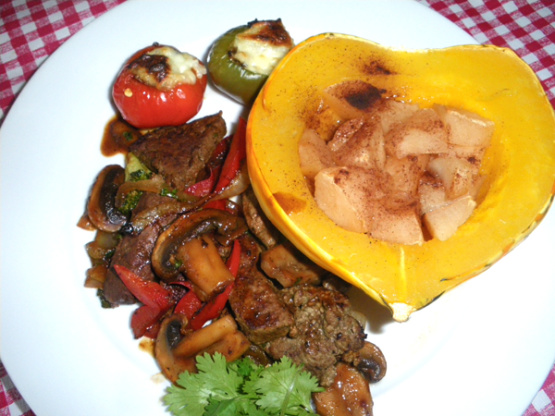 Here is something that is a fall classic in my area of the country.

We have acorn squash in the garden for the first time so when the first one got ripe i went looking for recipes. We also have a macintosh apple tree so I used that instead. It didn't take near as long as the the recipe said but it was a small squash. However everyone who tried it liked it and I'm really looking forward to making it again.
Wash the squash, cut in half lengthwise,scoop out the seeds and fiber.
Put in a baking pan cut side down add an half inch of boiling water.
Bake at 400°f for 18-22 minutes.
Peel, core and dice apples.
Mix with honey and 2 tablespoons of the melted butter.
Turn squash cut side up and brush with the remaining butter.
Sprinkle with salt.
Fill cavity with apple mixture.
Cover Pan with foil and continue to bake at 375°f 40 minutes or until the squash is tender.