Bergy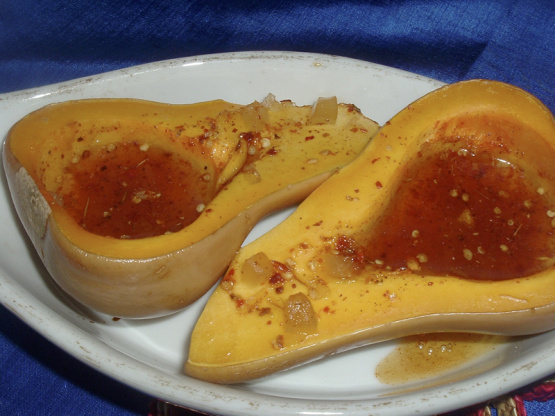 I am giving you a choice of three toppings they are all good.There are two different toppings in the picture Bacon Maple syrup and Browned Butter Sage. I just finished enjoying a butternut squash with GINGER marmalade &Chili flakes. 3 Tbsp Ginger marmalade, 1/2 tsp chili flakes, mix together and spoon into squash cavity - I really liked this one

I prepared this using butternut squash. I did the browned butter, honey and sage variation with great results. It was so good with our dinner. This will be enjoyed by us many times. Thanks!
1

acorn squash, cut in half lenthwise and seeded

Browned Butter Honey and Sage

2

tablespoons butter

2

tablespoons honey
1⁄2 teaspoon dried sage

Maple Bacon Topping

2

slices bacon, crisp fried, drained and crumbled

3

tablespoons maple syrup

Marmalade and Jalapeno

1

jalapeno, cleaned, seeded and finely chopped

3

tablespoons orange marmalade
Preheat oven to350°F.
Place prepared squash cut side down on a baking sheet, bake for 45-50 minutes or until tender.
Turn over and sprinkle with one of these toppings.
-BROWNED BUTTER:.
Melt the butter on med-low heat, swirling it until browned- do not let it burn.
Add honey& sage, mix.
Drizzle over the cooked squash& serve.
MAPLE BACON TOPPING:.
Paint the inside of the squash with the maple syrup, sprinkle in the crumbled bacon& serve.
MARMALADE& JALAPENO;.
Combine the Jalapeno& marmalade in a small saucepan, heat until the marmalade has melted.
Pour into the squash cavity& serve.