mliss29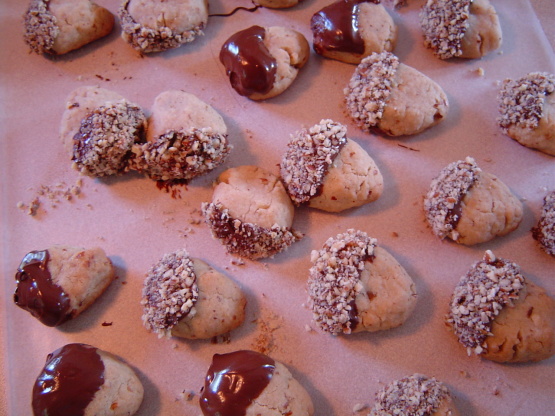 These are *really* good and pretty easy to make. My 3-year-old has been wanting to eat acorns, but I talked him into acorn cookies! He had a lot of fun helping with these. They don't spread out, so you can bake them pretty close together. Also, for us, 1/2 c ground pecans only covered a little more than half of the cookie tops. So we made some with just chocolate and no pecans. Yummy and cute!
Melt the butter or margarine over low heat. In a large bowl, beat together butter, brown sugar, 3/4 cup chopped pecans, and vanilla until well blended.
Add flour and baking powder and mix well.
Shape dough into 1-inch balls.
Slightly flatten by pressing balls onto ungreased cookie sheets; pinch tops to point to resemble acorns.
Bake for 10 to 12 minutes at 375 degrees F ( 190 degrees C). Remove from oven and cool on wire racks.
In top of a double boiler melt chocolate chips, stirring until smooth.
Remove from heat; keep chocolate warm over water in the double boiler.
Dip large ends of cooled cookies into melted chocolate, then roll in remaining 3/4 cup chopped pecans.
Cool to set chocolate.