Brenda.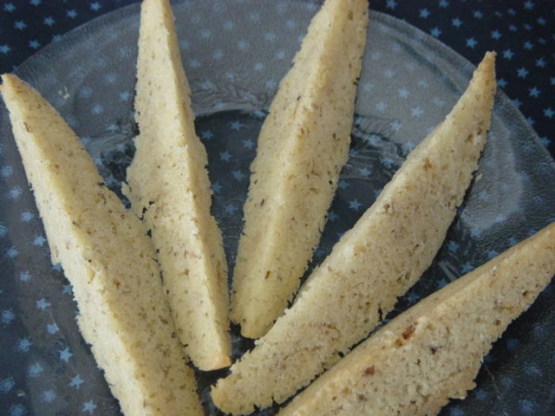 1957 Grand Prize Winner of the Pillsbury Bake-off Contest.These cookies have an unusual shape because they are baked in sheets of foil folded like a fan. They would be nice in a gift basket.Edit: the picture in the cookbook this came from shows them drizzled with chocolate- Now what wouldn't taste better with chocolate!

THANK YOU SO MUCH for this great tasting cookie [which also makes a very handy 'dipper']! I added these to my table of 'dips & dippers' & they were gone in no time ~ I'd put out an orange-flavored chocolate dip & let nature take its course! Thanks for the great recipe!
Heat oven to 325°F.
Fold 1 sheet of foil in half lengthwise. Fold double-thickness foil crosswise into 1-inch pleats to make an "accordion-pleated" pan. Place on ungreased cookie sheet. Repeat with second sheet of foil.
In large bowl, beat margarine and sugar until light and fluffy. Add vanilla and eggs; beat well. Add flour and salt; mix well. Stir in walnuts. Drop 1 rounded teaspoon of dough into each fold of foil (dough spreads during baking to form 4 1/2 to 5 inch-long cookies.).
Bake at 325°F for 18 to 26 minutes or until golden brown. Remove cookies from foil; cool completely. Turn foil over for second baking.
TIPS: If desired, baked cookies can be sprinkled with powdered sugar or frosted with a powdered sugar glaze.
VARIATIONS: Substitute one of the following for the walnuts or vanilla. Replace walnuts with 1 teaspoons cardamom, caraway seed, anise seed, or grated orange or lemon peel. Replace vanilla with 1/2 teaspoons rum flavor or almond, orange or lemon extract.