ImPat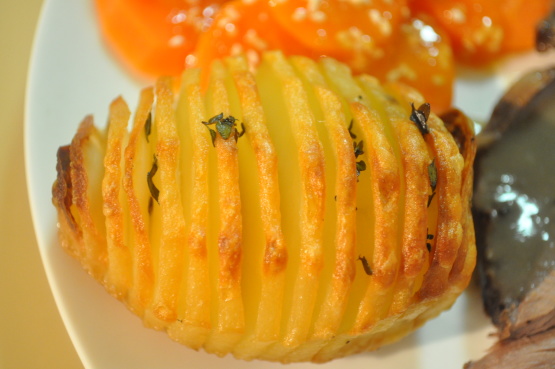 Yummy and easy potatoes. Can also be done on a grill.

Top Review by ImPat
Overall in the end they turned out great. I did peel my potatoes (my lot would not enjoy them with it on - a curse I think) but followed recipe through but came to a bit of problem what to do with the butter - in the end I melted in the microwave with the oil (scaled back as I only used 4 potatoes) and though I had put the fresh herbs in I drizzled some of the melted mix between slices and the rest over the potatoes but then we struck a little disaster in that the roast beef was taking longer to cook than expeccted so I had to turn the temperature down to make sure the potatoes did not burn but we ended up with potatoes with a crispy outside but not as flavoursome as I would have liked. Would suggest if you are supposed to mix olive oil and butter together maybe put the thyme leaves in as well infuse the flavour. Thank you *Aria* for a recipe that as great protential for us, made for Heathly Choices ABC.
Heat the oven to 375°F190°C
Cut slices into the potatoes without going all the way through.
Insert a few herbs into each.
Lay them on a baking sheet, and season with salt and pepper.
And drizzle with oil.
Bake until brown, crisp on the outside and soft inside, 45 minutes to an hour.