p.winkel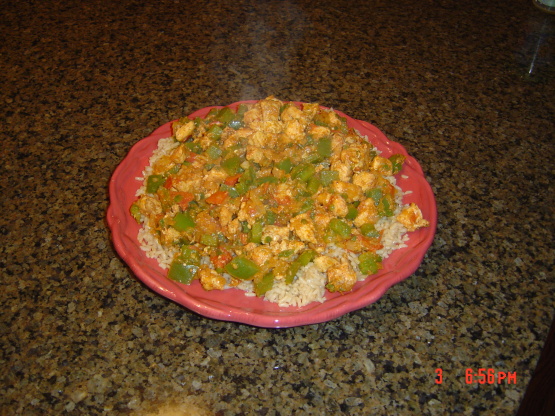 Easy, fast, healthy and delicious! This perfect weeknight dish takes less than 30 minutes, so it's a regular in our house. You can vary the heat by the kind and amount of chile powder and hot peppers you use. Serve over hot cooked rice, if desired.

this was really good. I used tony Chachere's in addition to all the other seasoning. It gave the dish a good kick. I served it over rice. over all a wonderful recipe
Season chicken with 1/2 tablespoon chile powder, salt and pepper.
Heat oil in a large skillet over medium high heat and saute seasoned chicken for 3 to 4 minutes, or until no longer pink.
Remove from skillet with a slotted spoon and keep warm.
2 In same skillet, stir fry bell pepper and onion until soft.
Add jalapeno peppers, tomatoes, remaining 1/2 tablespoon chile powder and hot pepper sauce.
Cook, stirring, for an additional 3 to 5 minutes; add chicken and stir fry for 2 minutes more.