Acadia's Tropical Iced Tea
Annacia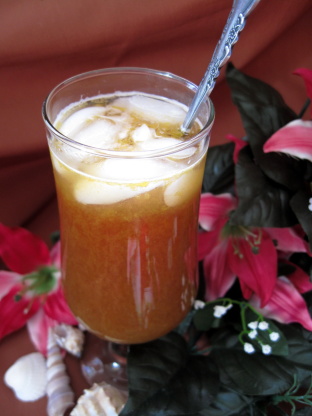 When I have a cold, I like to drink cold fruit drinks and this was created to full fill that need.

Very refreshing, nice afternoon pick-me-up. Like the combination of flavours.
2

cups boiling water

4

french vanilla tea bags

3

cups pineapple-orange juice
1⁄4 cup coconut juice

4

cups ice

4

fresh pineapple slices (optional)
Boil water in Tea Pot.
Pour water over tea bags and let steep for 15 minutes.
Discard tea bags.
In a plastic pitcher add 2 cups of ice.
Add tea to cool down.
After cooled, may transfer to a glass pitcher.
Added pineapple orange juice and coconut juice to tea and mix together.
Add 1/2 a cup of ice to each glass and pour tea/juice mixture over ice.
May garnish with slice of pineapple.
Enjoy!