Rita1652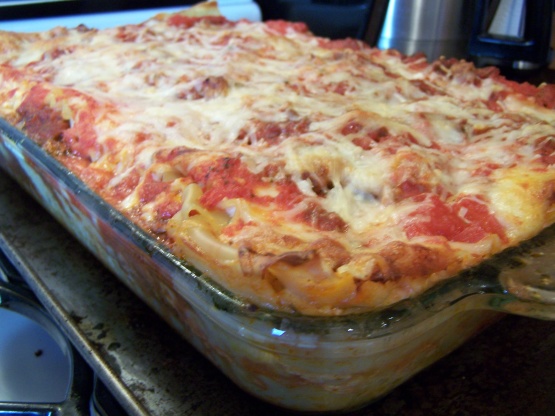 Yum! I love lasagna. This is a great "one" dish anytime meal. I use a 12 " x 8" x 2" baking dish.

Really nice one dish meal. I am terrible in that I don't like boiling my noodles first so I skipped that step and just used dry noodles. I did feel the ricotta needed a bit of seasoning so added garlic pepper and about 1/4 cup of grated Parmesan cheese and to make it bind better while baking I added one egg too. Really liked the flavors of the sauce and did top the whole dish with extra sauce (that helps my dry noodles bake) and then used more mozzarella and Parmesan cheeses for the top. Baked for 45 minutes covered with foil and then an additional 15 minutes uncovered (a bit longer because I used dry noodles) and it was fantastic. Made for Potluck tag.
Boil water and olive oil, then remove from heat.
Place lasagna noodles in hot water to soften for about 5 minutes, drain and and rinse in cool water.
Brown ground meat.
Saute onion, garlic, basil, oregano until onion is tender. Then mix with browned ground meat.
Add tomatoes to meat mixture and simmer 30-minutes. Stir occasionally.
Rub baking dish with butter then arrange three alternate layers of noodles, ricotta cheese, meat mixture and mozzarella.
Top with parmesan cheese.
Bake in a 350° oven for 40 mintes. Let stand 15 minutes before serving.
Serves 6.