Acadia's Bell Pepper Onion Stir Fry
Boomette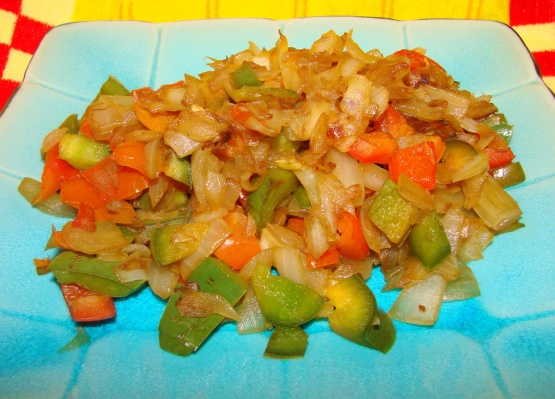 This recipe was created as an easy side dish. It can easily be doubled or tripled depending on the size of the crowd and for extra color use more than one colored bell pepper.

I've cooked bell peppers with onions many times, but never with soy sauce and Worcestershire. I used a Vidalia onion that I had, a red bell pepper and just a touch of the two sauces - the sodium is high for us. I did not use any salt or pepper, I felt they were not necessary. The two of us demolished pretty much all of this, a lovely side with my fish this evening.
Chop up bell pepper (discard seeds) into bite sized pieces.
Chop or slice onion.
In wok or skillet over medium low heat add olive oil.
Saute onion for 10 minutes or until translucent. Stir frequently.
Add soy sauce.
Add bell pepper and sauté for an additional 15 minutes or until bell pepper is tender.
Add Worcestershire sauce.
Stir and cook for 1-2 minutes longer.
Add salt and pepper to taste.