loof751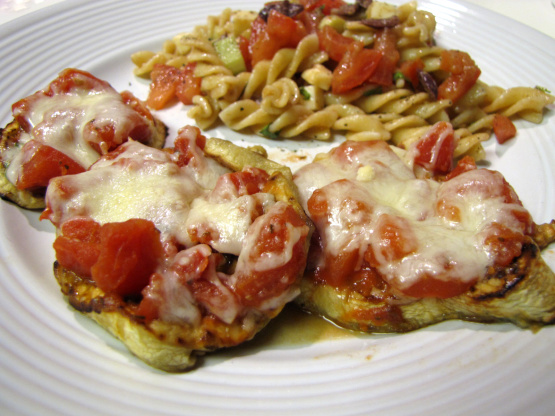 Well the eggplants are coming in from the garden in a big way. The last time I looked there were 10 eggplant fruit on the plant plus another 10 purple flowers. I guess I'm going to be searching the eggplant section of Zaar for additional ideas. LOL!

Delicious eggplant dish! I love that the eggplant is baked and not breaded or fried. I peeled mine, and my slices were probably a little thicker than 1/4". Topped with chunky tomato sauce and even DH, who isn't fond of eggplant, thought it was great. Thanks for sharing the recipe!
Slice eggplant so you have round 1/4" slices.
Place slices on a cooling rack and salt both sides.
Let sit for 30 minutes.
Preheat oven to 500 degrees F.
Take each slice of eggplant and dab them with a paper towel to remove moisture.
Spray cookie sheet with PAM and place eggplants on it.
Bake each side of the eggplant slices for 5 minutes on each side.
Remove from oven.
Top each slice with spaghetti sauce.
Then sprinkle each slice with mozzarella cheese.
Bake for 10 minutes or until cheese melts.
Enjoy.