Satyne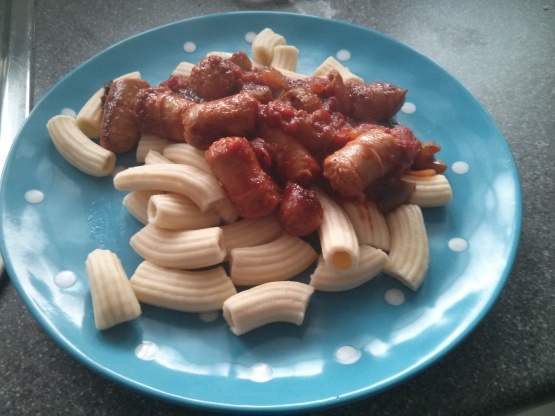 I've made this using the creamy version and Portuguese sausage. You can make this with any spicy sausage, such as hot Italian sausage, casings removed, and cut into 1-inch pieces. Did not care for this like I thought I would. The sauce wasn't full-bodied in flavor and the rigatoni was too large for mixing together. Would tweak the sauce and use penne or elbow pasta.
In a large frying pan, heat the oil over moderate heat. Add the sausage and cook, stirring, for 3 minutes. Stir in the onion, celery, green pepper, and garlic. Cover the pan and cook over moderately low heat, stirring occasionally, until the vegetables are soft, about 10 minutes. Add the tomatoes, salt, and black pepper. Cover and simmer for 15 minutes longer.
In a large pot of boiling, salted water, cook the rigatoni until just done, about 14 minutes. Drain and toss the pasta with the sauce.
VARIATION:.
Creamy Acadian Rigatoni.
For a creamy version of this dish, use 1 1/2 tablespoons tomato paste, 1 cup of cream, and an additional 1/2 teaspoon of salt in place of the canned tomatoes in puree. This variation, while more luxurious, is actually a little quicker.
ANDOUILLE SUBSTITUTIONS:.
If neither andouille nor hot Italian sausage is available, use a mild sausage and add 1/4 teaspoon of dried red-pepper flakes with the tomatoes and salt.