Absolutely the Best Stuffing... Ever!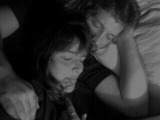 I have numerous friends who now use this recipe for their own Turkey during the holidays. This recipe is for a 10-12 Lb turkey. It also will stuff 2-3 chickens so you don't have to wait till Thanksgiving. This Murray family recipe is hands down the best stuffing... EVER! ...NOTE: this is a stuffing, not a dressing and does not work if cooked along side the bird in the oven. Oh, and no seasonings are needed. ;) Also, for those worried about cross-contamination....... I've had folks say "they won't eat anything that was in a raw bird"..... but . isn't . the . bird . 'raw' . too, until you cook it? Live and let live. Enjoy!
1⁄2 cup butter (1 stick)
1 lb bacon, thick sliced cut into 1-inch cubes semi frozen and use scissors for easy cutting
1 large onion, chopped
2 -4 celery ribs, chopped
1 loaf white bread, more if needed (use fresh or stale but still soft cut into 1-inch cubes. Use a serrated knife so as not to squish it)
1⁄2 cup turkey gizzard, boiled and chopped fine (optional)
Directions
In a large bowl place the bread cubes; set aside. In large skillet, melt butter. Add bacon and sauté until bacon is cooked but not crisp.
Add onion and celery, cook until the onions are almost translucent and bacon starts to crisp. Do not drain. Remove skillet from stove; allow 10 minutes or so to cool.
Pour over bread cubes (with optional gizzards) and toss. It should be cool enough now to mix with hands (squishing like making a meatloaf). Stuff and tie turkey or chickens.
Cook as directed for STUFFED turkey or chicken.
Most Helpful
Made for Photo Tag. Made EXACTLY as directed and its SUPER!!! I am a HUGE stuffing lover and this did not disappoint.I was so surprised at how tasty this stuffing is with no extra herbs added in.Anyone who likes a Roast Stuffed Bird ;) should give this a whirl. (No gizzards were harmed in the preparation of this recipe. LOL)

I've been making this stuffing for over 30 years,however I always add poultry seasoning to the mixture. Can't imagine it without it. FYI, you can easily use pre-packaged dry bread croutons, just add more liquid to the mix. It really is delicious, and the bacon adds a nice flavor.
Stuffing is so much better in the bird then baked on the side and this recipe is evidence of that for sure. The bacon added a smoky flavor to the stuffing that was a nice twist. Sorry no gizzards for us as I save these to help flavor the gravy!