Absolutely the Best Spam Fried Rice
Jenn M.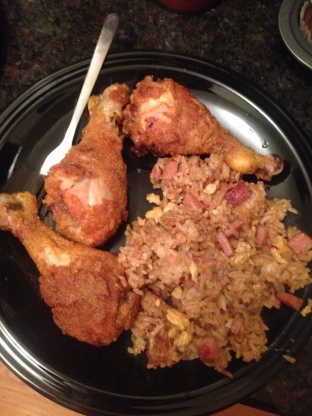 I really like fried rice and was searching and searching for a recipe that I liked. My brother is a college student and one of his friends made some for dinner the night before and I snitched a bite the next day (I tried it cold, right from the fridge) and it was the best I have ever had (and it was cold)! His friend didn't have a written recipe to give me (he made the recipe up and just makes it), so I finally talked him into coming to my house to show me while I wrote the recipe down. My brother told me that there would be 5 of them coming over and to have the rice cooked and cooled. I had no idea how much rice to cook, so I made 4 1/2 cups (dry) rice. It made a ton, but after 7 of us ate (most had 2 bowls full) there was only 1 bowl as left overs. I am sure you can adjust this to make less. I had the original Kikkoman soy sauce to use and it was saltier and less sweet as the Aloha Shoyu that my brother's friend nomally uses. The serving amounts is a large range because you can have it as a meal like we did, or as a side dish.

This is a good basic recipe, I don't usually add sugar, but it is a good idea to cut the bitterness from the soy. I use a bit more oyster sauce. Instead of scrambling the eggs. I have made sweet eggs. 6 eggs, 1 tbl soysauce, 1-2 tsp sugar. Heat 2tbl of cannola oil in frying pan on medium heat. Mix together all the ingredients in a small bowl and pour into heated pan. Cook over medium heat (it takes a while), gently pushing the sides of the egg toward the center and tipping the pan to get the liquid to the outer edge. Slow cooking gives you a fluffier omelet. When most of the liquid is gone. Flip the omelet or put pan in the oven until the eggs are set. The bottom of the omelet should not be brown. Slide omelet out of the pan to a cutting board and cut the omelet into thin strips and set aside. Besides spam, other meats can be added like char siu, kamabuko (fishcake),shrimp, diced pork or chicken. The meats can be cooked at the same time as the spam except if you are using shrimp add it just before adding the rice. Add the thawed peas and carrots or mixed vegetables, rice and seasonings. I use more oyster sauce. Transfer to serving bowl and top with eggs and green onions. It always works better if the rice is cooked the day before or old rice that has been stored in the freezer.
4 1⁄2 cups dry rice, cooked and cooled (preferably day old)

6 -7

eggs, with a splash water, scrambled

1

(11 ounce) can spam lite, diced

1

yellow onion, diced

12

ounces frozen peas and carrots, thawed

Sauce

1

cup aloha shoyu soy sauce (or Kikkoman soy sauce, just use a bit more sugar to sweeten)

4 -5

tablespoons sugar, for aloha shoyu or 6 -7 tablespoons for Kikkoman soy sauce

4 -5

garlic cloves, minced

2

tablespoons oyster sauce

1

teaspoon sesame oil
Scramble eggs in about 1/2 tablespoon of vegetable oil in a wok on medium high heat. When done, set aside in a bowl.
Place another tablespoon of oil in wok and sauté onions and Spam on medium high heat. When golden & starting to crisp on the outsides add the thawed peas and carrots.
Combine ingredients for the sauce and stir until sugar is dissolved, tasting along the way to be sure it is sweet enough for you. Add to the vegetables and boil on high until the sauce reduces to a glaze.
Slowly add the cooled rice and eggs to the vegetable mixture, being sure to break up any clumps of rice and so the coloring is even. Warm the rice through and serve.