Absolutely Delicious Gourmet Prawns
Bergy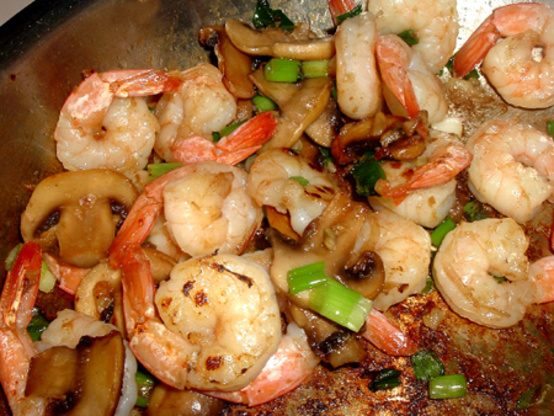 Another recipe from a friend on the Oregon coast who was a master with seafood. Enjoy!

Top Review by Bergy
Gourmet Prawns indeed! I did two things differently-I heated the oil/butter, added the garlic then the mushrooms then finally added the prawns & green onions. Instead of sherry I used Vermouth and added that a few seconds after the prawns. Cooked them for apprx 3 minutes. Fantastic - they exploded in your mouth Love the recipe Thanks Martini Guy for posting
Peel and slit prawns through the back partly and devein.
Heat olive oil and butter in frying pan or wok.
Stir in garlic.
Add prawns and saute gently for 2 minutes.
Add onions and mushrooms and saute until mushrooms are nearly done.
Add dry sherry and simmer for 3 minutes.
Serve in a hot chafing dish.