Absolutely Delicious and Simple Tomato, Basil, and Garlic Pasta
jrusk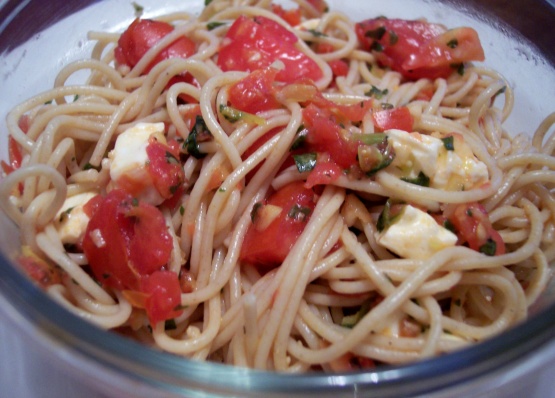 from Giada De Laurentiis. Really simple, but absolutely delicious. You can use canned crushed tomatoes and dried basil, but everybody always knows that fresh ingredients taste best.

Top Review by jrusk
I made this as directed and thought it was lacking a little something. I added a little sugar and balsamic vinegar to taste until I had it perfect for me. I had leftovers and heated just to moisten the oil but kept it cool. Even more tasty after the noodles marinated in the juice.
Cook the pasta in a large pot of boiling salted water until al dente, tender but still firm to the bite, stirring often, about 8 minutes.
Meanwhile, combine the next 7 ingredients in a food processor. Pulse just until the tomatoes are coarsely chopped (do not puree).
Drain the pasta, reserving some of the pasta water. Toss the pasta with the tomato mixture and fresh mozzarella in a large bowl. Add some of the reserved pasta water (about 1/4 cup) if the sauce looks dry. Serve immediately.