Absolute Best Ovenight Baked Oatmeal
Redsie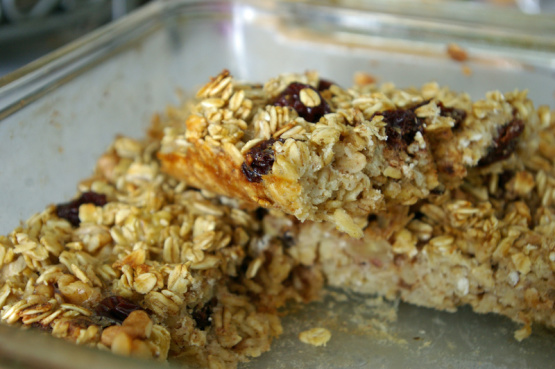 Soaking overnight makes this the best oatmeal you've ever had! Created for the Ready Set Cook! Contest #10, the ingredients have been updated based on the reviewers' suggestions that it was too sweet, but feel free to increase the sugar and syrup to 1/2 cup each if you prefer a cake-like sweetness. This saves wonderfully in the refrigerator and can be cut in "oatmeal-to-go" pieces after chilling.

I used regular rolled oats in this recipe. This was a simple recipe to put together. I was unsure how to eat it after it baked. We tried cutting and eating it - which was a little dry. Then we put it in a bowl and broke it apart and added some milk and it was wonderful!! If I had known ahead of time we were still going to add milk I would have warmed the milk and/or bowl, because the milk cooled it down considerably. My husband said he would like me to remember this for Father's Day as he really enjoys oatmeal.
Dump all ingredients in an 8 x 8 casserole dish or pie pan; stir well; cover and put in the refrigerator overnight.
In the morning, preheat the oven to 425 degrees and bake for 25-30 minutes or until the top starts to brown; serve hot, with milk over it if desired.