petlover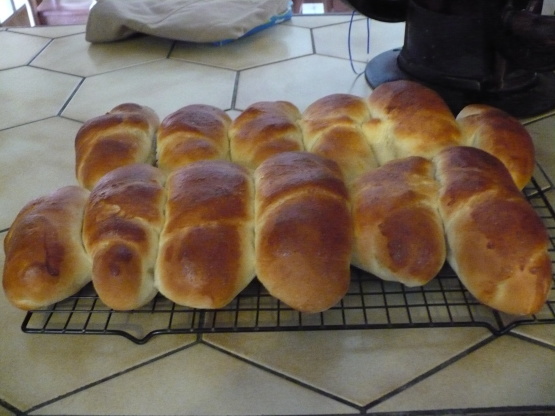 This recipe is so easy to make and they are so good! I usually make up a batch to keep in the freezer. It's nice to be able to pull out a few at a time and micro for a quick addition to any meal! Hope you like them, too!(Prep time does not include dough time in ABM)

Great buns...I like to do them as pull apart buns by dividing the dough into 16th, rolling little balls and baking in a muffin pan...yummy! My latest batches have been coming out very heavy and dry so I'm upping the water to see if that fixes thing....
Add all but last 2 ingredients to machine in order reccommended by the manufacturer and select dough cycle.
When complete, transfer dough to lightly floured surface and knead (if necessary) until easy to handle.
Shape into rolls as desired (I keep dividing into halves until I have sixteen pieces and then I divide each into 3 pieces for cloverleaf rolls and put in a muffin tin).
Cover and let rise until doubled; 20-30 minutes.
Combine egg and sugar, brush on top.
Bake at 375F for 12-14 minutes or until done.
Enjoy!