3 Reviews
This was delicious, 5* with the herbed goat cheese I added (around 3 ounces total). I used egg beaters instead of eggs (the equivalent of 4 eggs), and greatly reduced the vegetable oil. Took the advice of a prior reviewer and added 1 teaspoon turmeric instead of 1 tablespoon, but I think it could have used more. I served this with a potato side, very good! Another ZWT recipe. Thanks Blue Rose!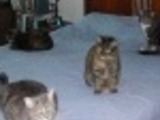 Made & reviewed for ZWT 4 - Kumquat's Kookin' Kaboodles! Having read the previous review I used 6 eggs, feta (goat/sheep cheese) & just 1 tsp of turmeric....the final dish was really delicious & we all enjoyed it! This is basically an African omelette lol, DS was the first to spot that! Thanks Kimberly for another lovely recipe :)

This received mixed reviews - 7yo LOVED it, 10yo hated it & I liked it. I personally think this has way too much turmeric. I doubled the eggs because i didn't see 3 eggs making enough for the 3 of us. 6 eggs was just right. The only cheese I had was swiss & I don't recommend it, lol. If not the recommended goat cheese, stick with something milder! Made for the 9/07 Aussie Swap.
Abish