loof751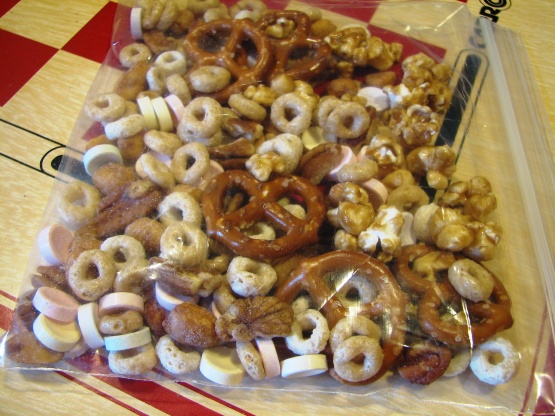 Got this recipe from my daughter. This is truly a KID PLEASER recipe but adults too will love to munch on this scrumptious and satisfying snack.**PLEASE NOTE*** this recipe call for smarties. That is NOT the American version smarties, hard ones that are colored. This calls for Canadian version of smarties. Hard shelled candies with chocolate inside, like m&m's. You may sub m&m's. DO NOT use American smarties.

i love those smarties. i used some honeycomb cereal, too.
4

cups Alpha-bits cereal

3

cups smarties candies

2

cups caramel popped popcorn

1

cup pecans

1

cup small pretzels

1

cup honey roasted peanuts
Mix all the ingredients together in a large bowl. Store in airtight container. yield is aprox.