loof751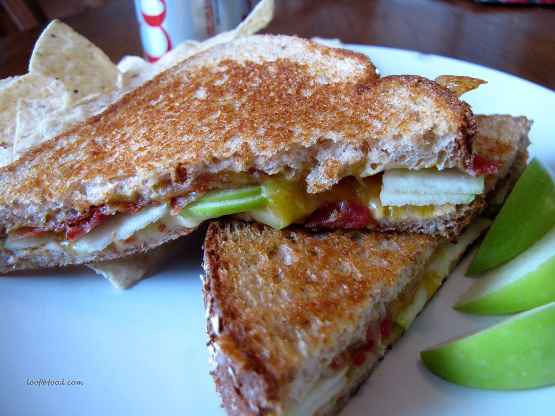 This looks TOTALLY yummy - submitted by Frank Lane Brooks in the February issue of Rachel Ray Magazine.

5 slices of bacon? For one sandwich? Is that correct? Well, I made ours with two slices. Love the sandwiches. I lightly grilled crumpet bread on the stove top grill and instead of regular cheddar we tried Irish Dubliner and next time I will try smoked Dorset. I also added a few baby spinach leaves to our sandwiches. Yum! Made for Mommy Diva's Cook-a-Thon.
Over medium heat,cook bacon until crisp.
Remove from pan and drain on a plate with paper towel.
Spread the mustard on bread, then place the cheese and bacon on one slice of bread.
Top with apple slices and remaining piece of bread.
Slice diagonally and serve with your favorite chips or soup.
Enjoy! ;).